The Department of Foreign Affairs has confirmed the airstrikes conducted by Malaysia on Tuesday against the remaining followers of a Philippine sultan locked in a deadly standoff in Sabah.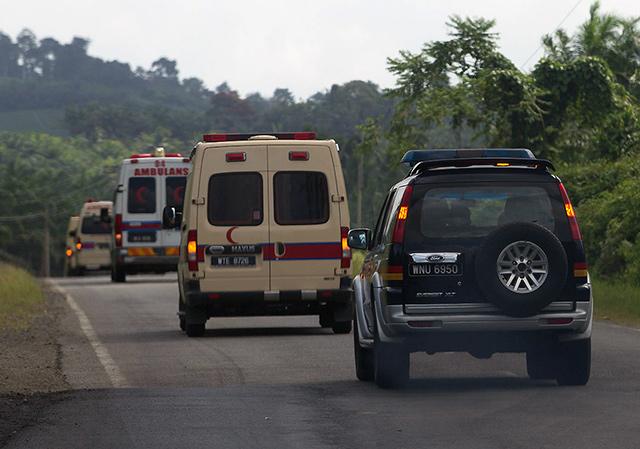 A convoy of ambulances drive toward Tanduo village on Tuesday where the standoff with Sulu gunmen and Malaysian security forces was taking place. Malaysian security forces launched an assault on March 5 to clear out the armed Filipinos engaged in a three-week incursion into Sabah that has left 27 people dead.
Foreign Affairs spokesman Raul Hernandez said it has no information if there are Filipino casualties in the Malaysian assault, which is aimed at ending the three-week standoff.
"We would like to confirm reports that Malaysian security forces conducted air strikes followed by ground operations. We are waiting for details and casualties if there are," Hernandez told a press briefing.
Malaysian jets bombed targets in Sabah early Tuesday morning and hundreds of troops have moved into areas occupied by followers of Sulu Sultan Jamalul Kiram III, escalating the violence intended to end the impasse between Kiram's men and Malaysian security forces.
Del Rosario's visit
The operation was conducted several hours after Foreign Affairs Secretary Albert del Rosario met with his Malaysian counterpart Foreign Minister Anifah Aman and the Malaysian Defense Chief in Kuala Lumpur at 1 a.m. on Tuesday.
Del Rosario was dispatched by the Philippine government to Malaysia to appeal for "maximum tolerance" on the Filipinos, who are regarded as intruders by Malaysian forces, as Manila scrambled to end the violence in Sabah.
In a statement from Kuala Lumpur, Del Rosario said: "We came to Malaysia to endeavor to walk that last mile to try to save lives in this unfortunate conflict. We intend to fully continue this effort."
In his discussion with Anifah, Del Rosario also requested the Malaysian government to establish a safety corridor for women, children and other civilians not involved in the hostilities, Hernandez said.
As of Monday, the DFA has recorded 23 Filipino casualties in the armed hostilities.
PHL forces 'defeated'
Before noon Tuesday, Malaysian police claimed that Kiram's followers were defeated. However, Sultanate spokesman Abraham Idjirani claimed that the sultan's brother Raja Muda Azzimudie told him they were still well and alive.
Malaysian news site Malaysiakini quoted Malaysian Prime Minister Najib Abdul Razak as saying that the Malaysian troops started with an airstrike by jet fighters of the Royal Malaysian Air Forces followed by a mortar strike at around 10 a.m. Tuesday.
It also quoted Armed Forces General Zulkifli Mat Zain as saying that "certain explosives" were used to allow Malaysian forces to move in. At around 11:45 a.m., Malaysian media outfit The Star reported that the Filipinos have been defeated.
Azzimudie, through Idjirani, confirmed that the Malaysian security forces dropped at least two bombs but that these were far from their position.
The Star quoted Malaysian authorities as saying that there were reportedly no casualties among Malaysian troops. However, they did not indicate how many Filipinos were killed or wounded.
At around 11:54 a.m., Malaysiakini quoted Inspector General of Police Omar Ismail as saying that the joint operation between Malaysian police and military is "still facing resistance."
The Star quoted Malaysia's De facto law minister Nazri Aziz as saying that Kiram's followers will be charged for murder for their intrusion into Lahad Datu, Sabah.
Doubts
However, according to a report by M. Jegathesan for Agence France Presse, Malaysia's national police chief had raised doubts about the success of the air and ground attack, saying "mopping up" operations had yet to find any bodies and suggesting at least some of the militants might have slipped away.
Furthermore, Abraham Idjirani, spokesman for the sultan Jamalul Kiram III, told AFP that the attack had occurred "away from where" their men were, and he had spoken with the leader of the Sultan of Sulu's armed group about eight hours after the assault was launched.
Malaysian federal police chief Ismail Omar later told reporters in a press conference hours after the initial attack that soldiers combing across a wide area of hilly plantation country were yet to find any dead militants.
If the invaders had indeed escaped a tight police and military cordon, it would likely fuel perceptions of incompetence by security forces in the affair, and sow fears that armed and dangerous gunmen were loose.
At least 180 Filipinos have been holed up Sabah, surrounded by massive Malaysian forces, since landing by boat from Southern Mindanao on February 12 to press the Sultanate of Sulu's claim to the territory located in Borneo Island, sparking a diplomatic crisis between the Philippines and Malaysia.
The Filipinos refused to leave until the Malaysian government heeds their demand to re-open talks on unresolved claim of the sultanate on Sabah.
Kiram, 74, said he is the heir to the Islamic sultanate of Sulu, which once controlled Sabah and islands in Southern Philippines.
Over the years, the sultanate's power has diminished but it has continued to receive nominal payment from the Malaysian government under a historical lease arrangement between Kiram's forebears and the British North Borneo company.
The latest flare-up in the conflict over Sabah that has long been a thorn in Malaysian-Philippines relations. The Philippines has also been concerned that the violence could affect years-long negotiations being brokered by Malaysian between Manila and the Moro Islamic Liberation Front, the largest Muslim rebel group in the southern Philippines. — with a report from
AFP/Kimberly Jane Tan/KG/KBK/DVM, GMA News