Malaysian police claimed before noon Tuesday that the followers of Sulu Sultan Jamalul Kiram had been defeated but the monarch's camp said that his men remain alive and defiant.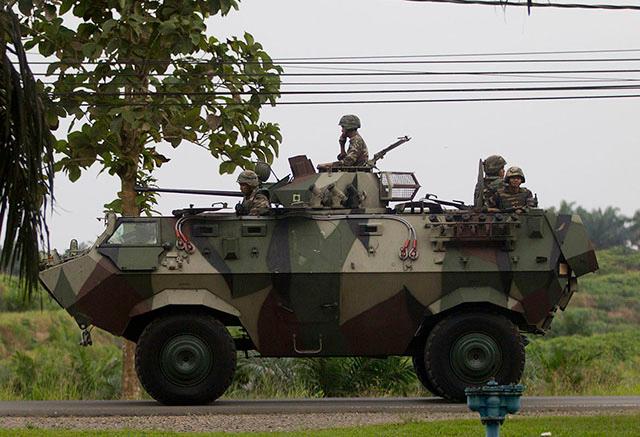 Earlier in the day, Malaysian news agency The Star quoted the Malaysian police as saying that the "Sulu gunmen in Kg Tanduo [have been] totally defeated."
"They were determined not to surrender despite our best efforts including negotiations and even carpeting the area with thousands of leaflets urging them to lay down their arms," Inspector General of Police Omar Ismail was quoted in the report as saying.
Reports on The Star and New Straits Times also quoted Ismail as aying that as of 11:16 a.m. "mopping-up operations" were ongoing in the area.
"Our personnel are carrying out mopping up operations and conducting house-to-house checks. We cannot ascertain casualties among the enemy's side for now," he said in The Star report.
Reports quoted Malaysian authorities as saying that there were reportedly no casualties among Malaysian troops. However, they did not indicate how many Filipinos were killed or wounded.
"We could not confirm numbers of death and injury on the intruders side but there are no casualties on our side. I urge all parties not to speculate especially number of injuries as it could jeopardize our ongoing operation," the New Straits Times quoted Ismail as saying.
'Ready to defend'
But in an interview aired over dzBB radio, Sultanate spokesman Abraham Idjirani said they received a call from the sultan's brother Raja Muda Azzimudie shortly after 11 a.m. saying he was fine.
"Nagpapahinga sina Raja Muda at ang kanyang kasamahan pero buo pa rin sila [Raja Muda and his men are resting now but they are still alive]," he said.
He quoted Azzimudie as saying the Malaysian security forces dropped at least two bombs but these were far from their position.
Idjirani said Azzimudie and his men are still "intact" in the area, but said he was not sure if they suffered casualties.
"Nasa panig natin ang Poong Maykapal [God is on our side]," he said as he insisted the Malaysian forces' bombs missed their mark.
He also likened Azzimudie and his men's fight to one between David and Goliath.
When asked what their plan is now, he said that they are "ready to defend themselves."
But Idjirani also admitted Azzimudie's children wept when they first learned earlier Tuesday morning that Malaysian forces were ready to attack in Sabah.
Assault
Earlier in the day, Malaysian forces assaulted the area where Kiram's followers had been holed up for three weeks.
Malaysian Prime Minister Najib Abdul Razak said the Malaysian troops started with an air strike by jet fighters of the Royal Malaysian Air Forces followed by a mortar strike.
Last March 1, Kiram's followers engaged the Malaysian forces in a bloody clash that left 12 Filipinos and two Malaysian police commandos dead.
On March 2, another clash left six Malaysian policemen and at least six Filipinos dead.
But Kiram's followers refused to heed President Benigno Aquino III's call to surrender without conditions, saying they had chosen "honor over life."
Peaceful solutions
Hours before Tuesday's attack, Foreign Affairs Secretary Albert del Rosario met with two Malaysian ministers to discuss "peaceful" solutions to the situation.
A news release from the Department of Foreign Affairs said del Rosario met with foreign minister Dato Sri' Anifah Aman and defense minister Dato' Seri Dr. Ahmad Zamid Hamidi .
The meeting took place midnight Monday, the DFA said
Present at the meeting were Philippine Ambassador Jose Eduardo Malaya III, Malaysian Foreign Ministry Secretary General Tan Sri Mohd Radzi Abdul Rahman, and other officials from the Embassy and the Malaysian Foreign and Defense Ministries. —
Kimberly Jane Tan/BM, GMA News