Mark Zuckerberg's former roommate and Facebook co-founder, Dustin Moskovitz may no longer be with the Menlo Park, Calif.-based social networking giant, but he still holds a significant financial stake in the company.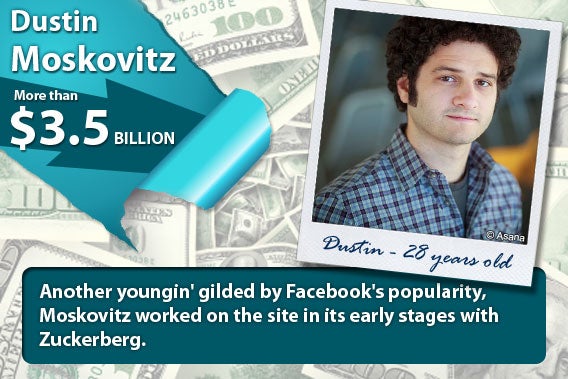 That stake got a little smaller over the summer as he proceeded to sell 7.5 million Facebook shares. Still, as of February, he still owns more than 5% of the company's outstanding stock. Facebook's third employee, he dropped out Harvard with Zuckerberg and moved to California to work for the social-networking firm full-time.
He left in 2008 to start Asana, a software company that aims to improve how people work with project collaboration tools. Engaged to former journalist Cari Tuna, Moskovitz and his fiancee founded Good Ventures and plan to publish their grants and conversations with charities with the goal of rewarding results over crafty fundraising techniques.
He is also a signee of Bill Gates' and Warren Buffett's Giving Pledge. Moskovitz bikes to work, flies commercial, and pitches his own tent at Burning Man.