A group of Filipinos claiming to be followers of the Sultan of Sulu remained defiant after a restless Tuesday night in Sabah as the midnight "deadline" for their surrender lapsed.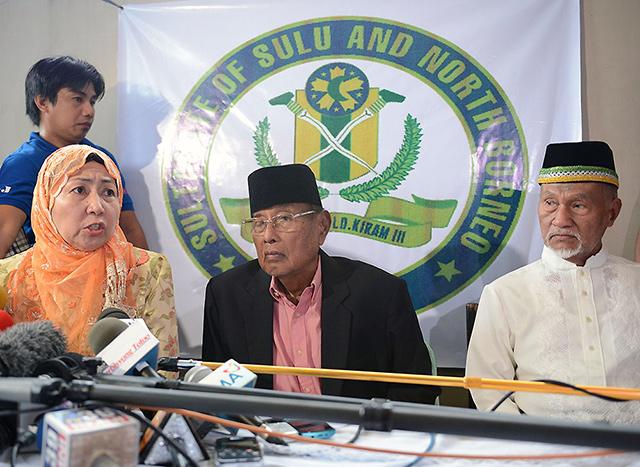 Sitti Krishna Idjirami (left) sister of Jamalul Kiram III (center), the 74-year-old Sultan of Sulu, and Crown Prince Bantillan Kiram (right) speak at a press conference in Manila on Tuesday. President Benigno Aquino III has warned Jamalul Kiram III that he would face the 'full force of the law' if he did not withdraw his gunmen from Sabah, Malaysia, but the elderly ruler remained defiant.
But Raja Muda Agbimuddin Kiram, brother of Sulu Sultan Jamalul Kiram III, also said early Wednesday they are running out of food.
"We are ... poised to retaliate," Kiram said in an interview on dzBB radio, adding he received text messages from "sympathizers" Tuesday night that the deadline was nearing.
On Tuesday, Department of Foreign Affairs (DFA) spokesman Raul Hernandez was quoted by Balita as saying DFA Secretary Albert del Rosario has requested Malaysia to extend the deadline until Tuesday midnight as Manila continues to persuade the group to leave peacefully.
But when asked if Malaysian authorities moved in when the "deadline" lapsed, Kiram said nothing happened.
"Walang nangyari (Nothing happened)," he said.
He also said that while they managed to get some sleep, they had to take shifts to keep watch.
'Negotiations'
For now, he said they are open to "negotiations" with Malaysian authorities, and may ask them to "respect human rights" and allow their sympathizers to bring them food.
"They must also allow sympathizers, not to stop them from coming to bring us food," he said.
He said they have been running out of food.
Kiram also said they are willing to listen to Foreign Affairs official Jose Brillantes if he meets with them.
No bigtime funding
On the other hand, Kiram insisted no one funded their trip to Sabah.
President Benigno Aquino III on Tuesday had said the group may have had "collaborators" and wanted them investigated.
"Walang gumagastos sa amin. This is self-reliance," he said.
Malaysian police to resolve 'intrusion' soonest
On Tuesday, Malaysian police said the "intrusion" will be resolved soonest, and advised the public not to be worried.
Deputy Inspector General Tan Sri Khalid Abu Bakar was quoted in a report by Malaysia's Bernama news agency as saying the episode since Feb. 12 will be resolved.
"We will end the present standoff and I advise people not to worry. God willing, we will solve the matter as soon as possible," he said.
He refused to comment on supposed "negotiations." —KG, GMA News